Not quite sure what to write, but when all else fails, there are always introductions. My name is Thomas (not Tom, Tommy or any variation of those two, just Thomas) Anderson. My username comes from a graphic novel 'The Sandman' by Neil Gaiman, Lucien is Dream's former raven and the librarian of the Library of Dreams, a very enviable position surrounded books that were never written from all potential writers. According to Wikipedia, Lucien is also from a comic book series called 'Tales of Ghost Castle' where he watches over a castle in Transylvania and its forgotten library with a werewolf named Rover. While I don't have a werewolf, I do have a grumpy orange tabby named Kahn: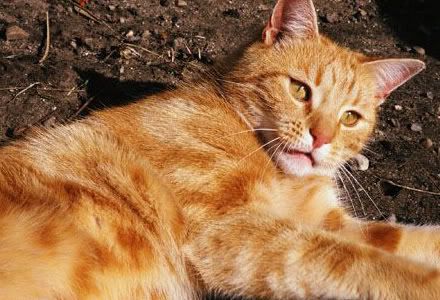 Clearly, Lucien is much cooler than myself, even though he's balding and has a nose large enough for birds to perch on it. I wonder if a livejournal counts as a book that someone hasn't written, while it is some form of modern writing, it's not exactly a book or a journal per se.
Anyway, I'm rambling and all out of ideas to write for the moment, as well as exhausted from getting on the wrong train and going the opposite direction. Again. This sort of thing happens to me a lot. Good night!